LaLamour Autumn / Winter Collection 2018
Dressing up to go out is back in vogue. So, unsurprisingly, the 1950s continue to be a big inspiration.
However the attitude with which pieces are worn or recreated place them firmly in the now. Digital prints made of vintage material sometimes compiled in an eccentric way. Putting things together in an unexpected way brings a smile and expresses a truly personal statement.
Find other nostalgia devotees and throw a LALAMOUR party!
Nostalgia
A collection of grandmother's postcards will take you back to times gone by.
The nostalgia print is available in:
– LAWI1810 Classic crossdress
– LAWI1811 Circle skirt
– LAWI1812 T-shirt 3/4 sleeves
Materials: 95% PES / 5% EA
Styling tip: The nostalgia print is a perfect match with the LaLamour petticoats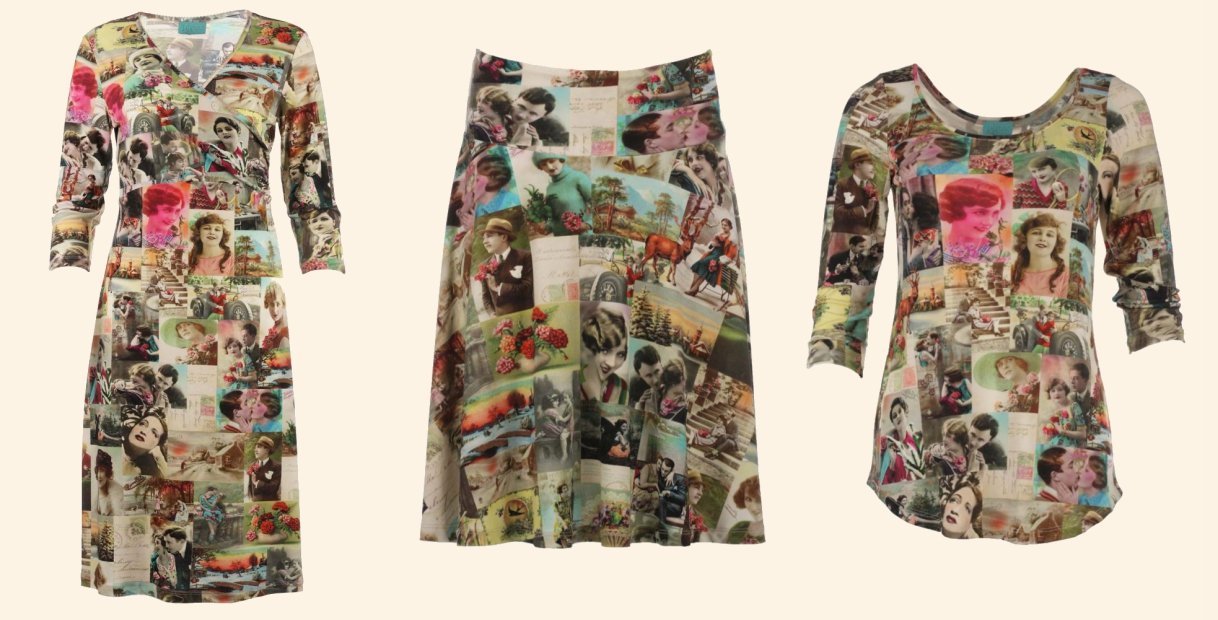 Forest
A fairy tale forest where dreams and reality merge. A painting from the crinoline and wig time, Victorian roses and angels and a sweet little gnome go hand in hand. The forest print is available in:
– LAWI1820 Classic crossdress
– LAWI1821 Circle skirt
– LAWI1822 T-shirt 3/4 sleeves
Materials: 95% VI / 5% EA
Styling tip:The crossdress can be worn with both a high and a low neckline, by draping the crossdress in different ways.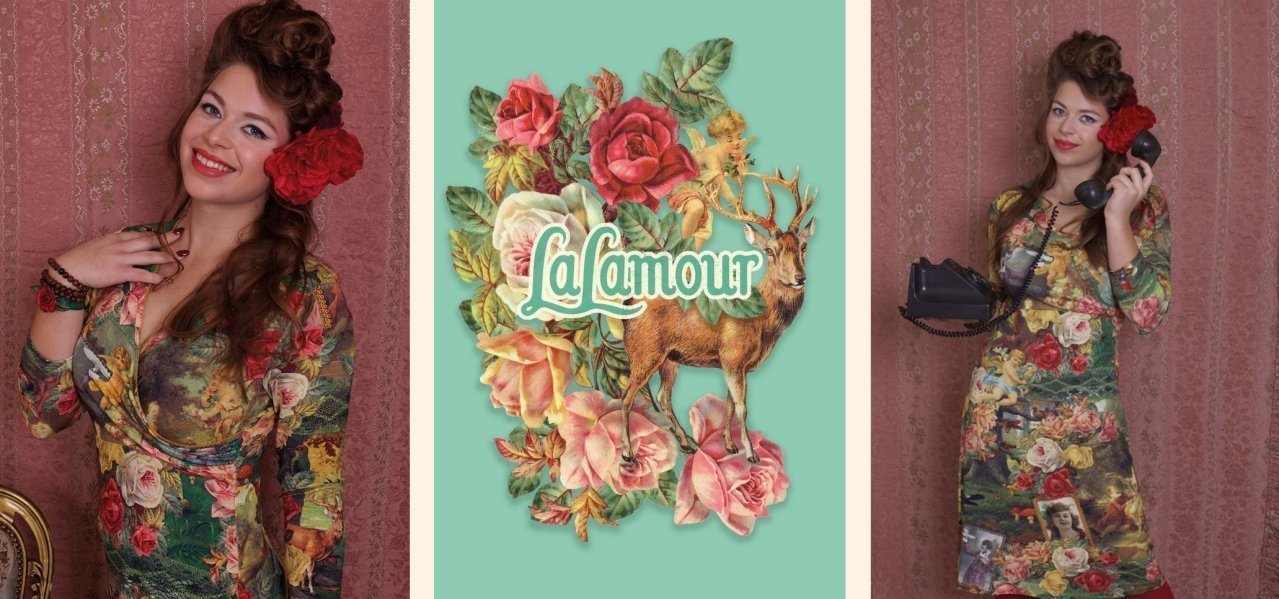 Lace
A typical 50s rose pattern on a black lace background. The print combines well with the black petticoat LAWI1850 or other dark underskirts. Available in pink and green. The lace print is available in:
– LAWI1830 Flared dress
– LAWI1831 Lindy dress
– LAWI1832 Circle skirt
– LAWI1833 T-shirt high neck
Material: 95% VI / 5% EA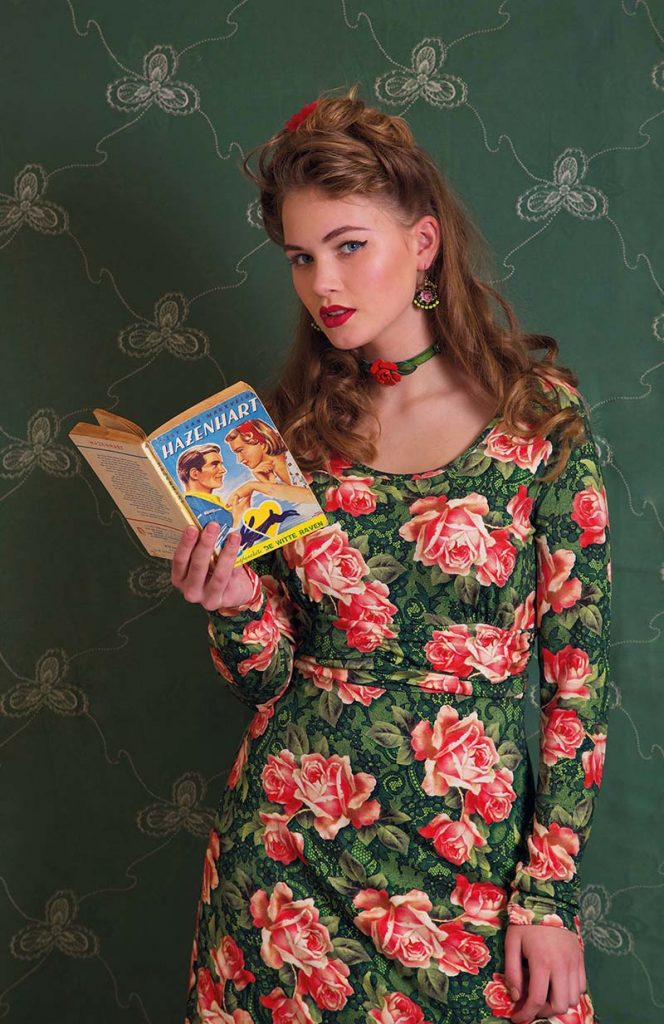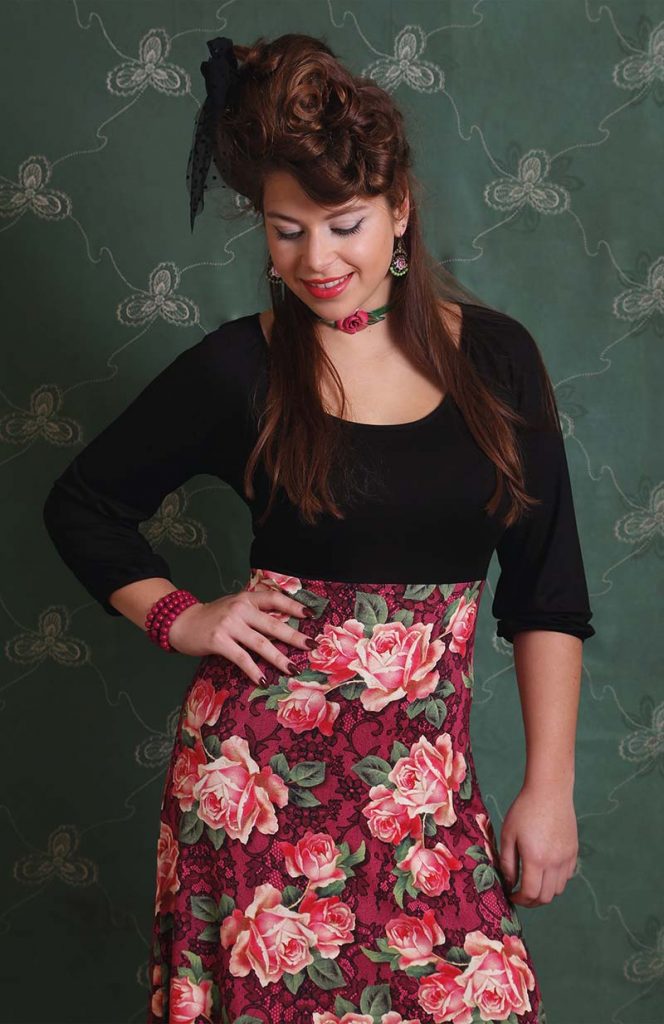 Roses
A beautifully executed winter roses pattern on three backgrounds: forest night (green), Port Royale (aubergine) and black.
De roses print is available in:
– LAWI1840 High neck dress
– LAWI1841 Circle skirt
– LAWI1842 T-shirt high neck
Materials: 95% PES / 5% EA
Styling tip: Create a stylish and elegant outfit by combining the circle skirt or the high neck t-shirt with the LaLamour petticoats
LaLamour would not be LaLamour without AMOUR…
AMOUR for colour…
AMOUR for life…
AMOUR for you…
LaLamour